Change Your Mind and Your Life Will Follow
Price: $24.95
AUTHOR: Karen Casey
TITLE: Change Your Mind and Your Life Will Follow
PUBLISHER: Red Wheel/Weiser
YEAR: May 2005
ISBN: 9781573242134
DESCRIPTION: Hardcopy
Change Your Mind and Your Life Will Follow suggests that we have only two real choices in life. The first is to fall into despair, become numb, and let fear have its way with us. The second is to open our hearts to those around us, to heal ourselves and each other by changing how we respond in every interaction we have.
1. Let go of outcomes. You are only responsible for doing your best. Stop being a future dweller and live in the present moment where true joy is possible.
2. Choose to act rather than react. Don't worry about what others are thinking or saying about you. A reactive life is a life full of anxiety and second-guessing. Detach from other people's business.
3. Give up your judgments. These toxic feelings and conclusions imprison you and hinder your relationships.
4. Every encounter is a holy encounter — respond accordingly. Nothing happens by chance so read everything and try to find the lesson in what you are experiencing. Be grateful for what shows up in your life.

These are some of the simple steps that can lead to a peaceful and meaningful life. Casey's self-help book is a winner!
Karen Casey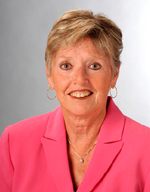 Millions of people around the world spend a few moments in quiet reflection with Karen Casey every day. Karen is the best-selling author of Each Day a New Beginning, the first daily meditation book written expressly for women in recovery from addiction. Published in 1981, Each Day a New Beginning has sold more than three million copies and has been translated into ten different languages. Over the years, readers around the world have come to regard Karen as a trusted companion on the recovery journey. Among her other best-selling inspirational books are Keepers of the Wisdom, A Woman's Spirit, Fearless Relationships, Change Mind And Your Life Will Follow and A Life of My Own.